MAIN OVERVIEW
Advertise your products with the coolest featured content: audio and video files for your products
We all know the benefits of showing images instead of simple description text and you can experience the same improving effect if you use video and audio content, especially for those products for which an image is not enough, such as videogames, computer programmes or music.
Using a video for your products instead of images might be very useful to present your items in a better way, but it becomes especially useful when it comes to digital products, such as programs, video games or such, where a picture is not enough to show their strengths at the best.
And what if you sell music? Nothing can be a good preview of your product but an audio file. And most e-commerce themes allow you to add only images.
But, do not despair, now all this is possible and easy with YITH WooCommerce Featured Audio and Video Content, a plugin that will let you attach an audio file or a video to your product in place of the featured image. It supports the most common audio and video formats and be sure that your shop will benefit a lot from this illustrative feature.
Do not wait a moment more to try it!
Requires: WordPress 4.5 or higher and WooCommerce 3.3.x or higher
Compatible up to: WordPress 5.4.x and WooCommerce 4.2.x
Minimum PHP version: 5.6
Version: 1.3.4
Released: 2020-05-22
Supported multilanguage plugins: WPML
Translation ready: YES
Languages 100% guaranteed by YITH: Dutch, English, Italian, Spanish
Support to: All YITH themes. All YITH plugins.
Supported third party themes: Flatsome
GDPR Compliant: UNNECESSARY
> View documentation> View changelog> Ask support
WITH YITH FEATURED AUDIO & VIDEO CONTENT YOU CAN:
LINK TO SOUNDCLOUD TRACKS
Take advantage of the powerful online music platform to groove your products.
CREATE YOUR CUSTOMIZED VIDEO GALLERY
Upload your video and free yourself from YouTube and Vimeo services.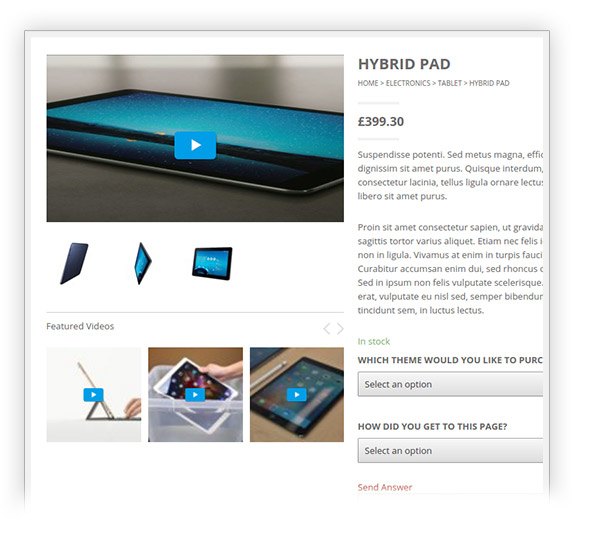 MANAGE VIDEOS
Decide whether to add video controls, in order to let users stop videos.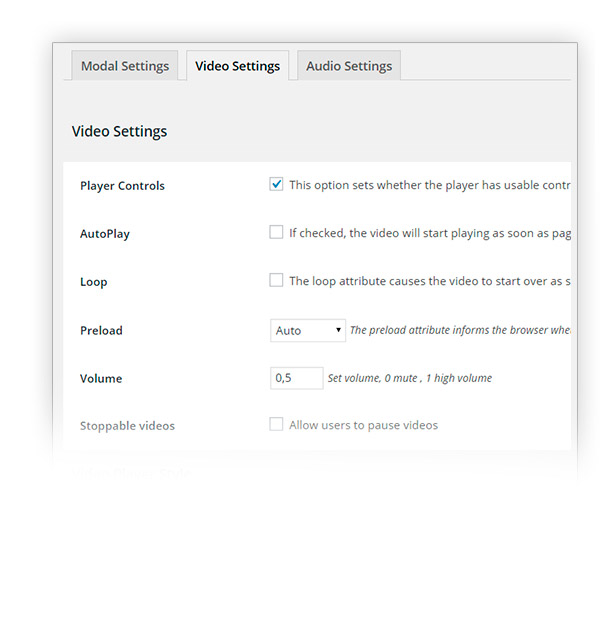 SHOW VIDEOS IN A MODAL WINDOW
A comfortable and simple style choice.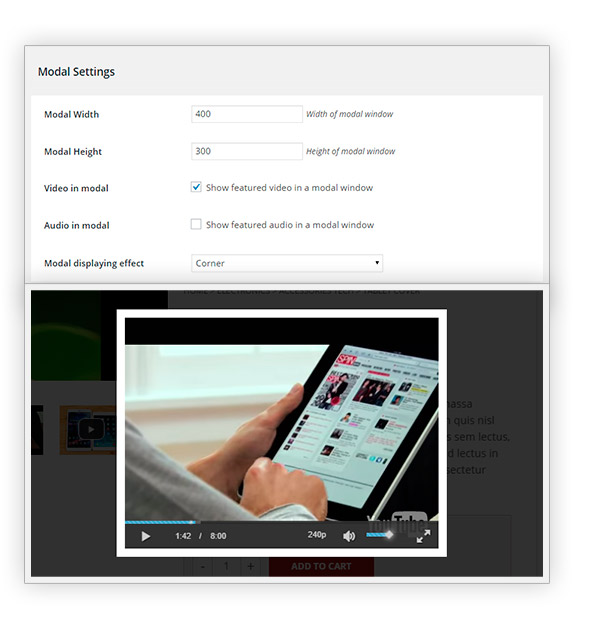 CUSTOMIZE THE CONTROL BAR STYLE
Change all colors you want according to your needs.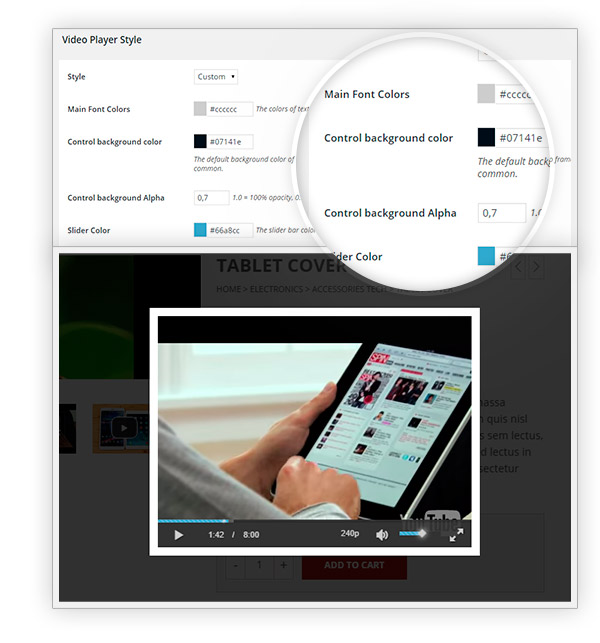 CUSTOMIZE VARIABLE PRODUCTS CONTENTS
You have the full control of shared contents: change those of the variable products for a unique experience!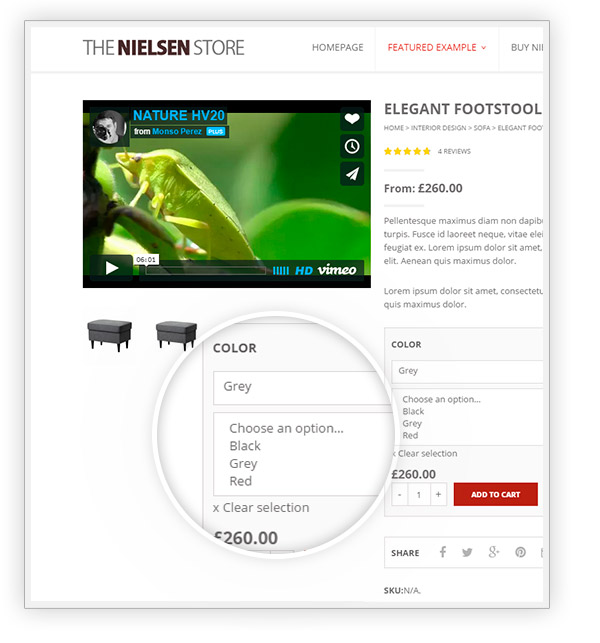 SHOW PRODUCT VIDEOS IN THE SIDEBAR
The video gallery will be shown in a nice slider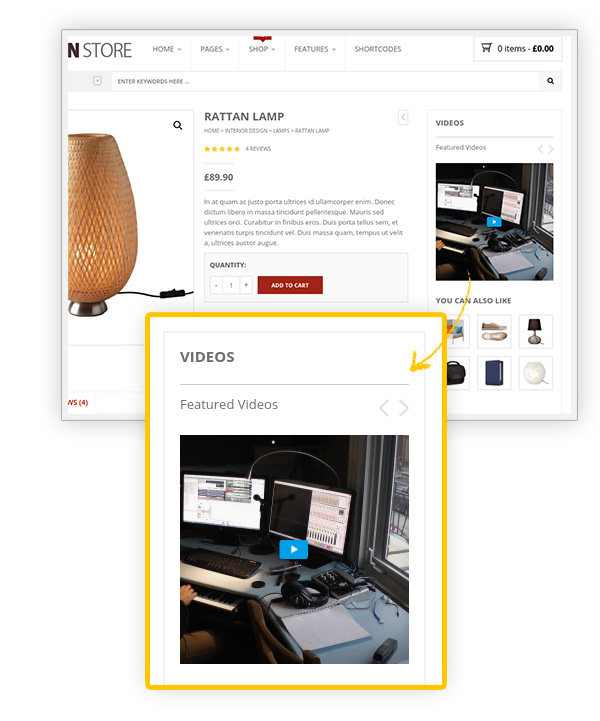 Take advantage of the wpml compatibility
You are free to easily translate the plugin with the powerful WPML tool
FREE VS PREMIUM
FREE VERSION FEATURES
Change featured image with a YouTube or Vimeo video
PREMIUM VERSION FEATURES
All features of the free version
Upload videos in one or more products of the shop
Uploading of one or more videos in the WordPress gallery
Show video controls
Set to play the same video in a loop
Option to set a custom aspect ratio for video New
Prevent users to stop videos
Set automatic play of featured videos
Customize the style of the video control bar
Addition of one or more SoundCloud audio files in the products of the shop
Create a playlist of SoundCloud audio file
Display audio file information
Show video/audio files in a modal window
Link video and audio files to product single variations
Show the audio and video sliders in a sidebar instead of under the product image gallery
See How To Download