MAIN OVERVIEW
Take more traffic and sales to your site and earn from vendor commissions
PayPal MassPay is now a deprecated service. The service has been restricted to only those users who had previously enabled.
If you already have an approved account, you will be able to use the service with Multi Vendor plugin.
On the contrary, please, consider that MassPay can no longer be activated, but we have developed two plugins to solve this situation: YITH PayPal Payouts for WooCommerce (only valid for USA) and YITH Stripe Connect for WooCommerce
Requires: WordPress 4.5 or higher and WooCommerce 3.8.x or higher
Compatible up to: WordPress 5.4.x and WooCommerce 4.2.x
Minimum PHP version: 5.6
Version: 3.6.2
Released: 2020-05-27
Supported multilanguage plugins: WPML, Loco translate, qTranslateX
Translation ready: YES
Languages 100% guaranteed by YITH: English (100%), Italian (99%), Spanish (99%), Dutch (98%)
Languages provided by users: French (70%)
Support to: All YITH themes. All YITH plugins.
Supported third party themes: Adventure Tours, Avada, Divi, Flatsome, X
Supported third party plugins: Aelia Currency Switcher, SenangPay Payment Gateway for WooCommerce (no to pay commissions), WooCommerce Cost of Goods, WooCommerce Customer/Order CSV Export, WooCommerce Points and Rewards, WordPress User Frontend, WP User Avatar, Yoast SEO, User Switching
Supported page builders: Gutenberg
GDPR Compliant: YES
> View documentation> View changelog> Ask support
WITH YITH MULTI VENDOR / MARKEPLACE YOU CAN:
Add more details for each vendor
Contact details and social network profiles gathered in a customizable header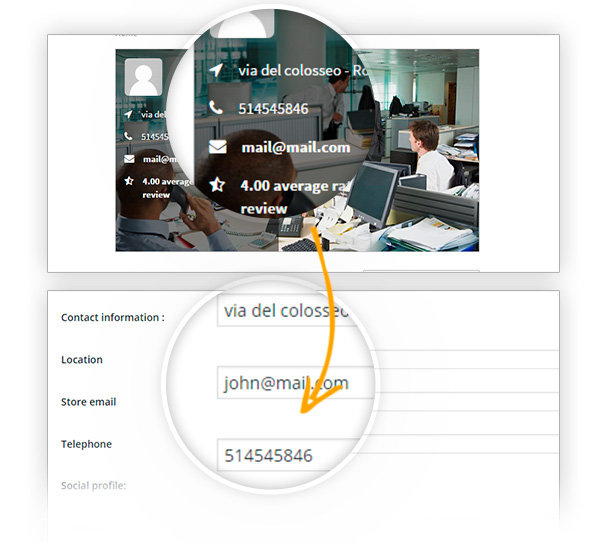 Have multiple administrators
Each owner of the shops can elect any registered user to help in the management of the store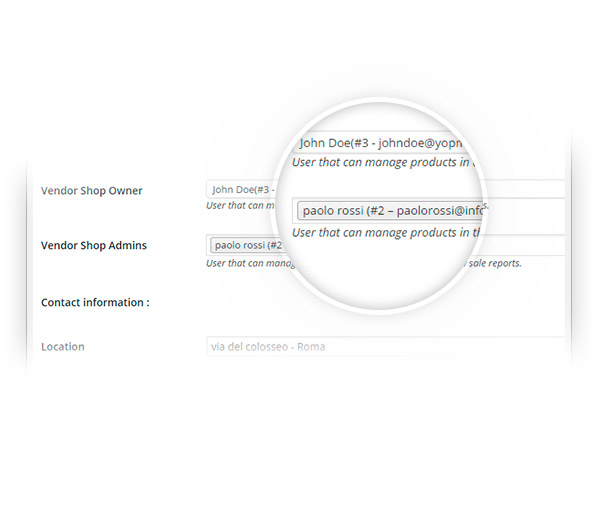 Allow users to sell and edit their own products
Avoiding the pending status until the administration approval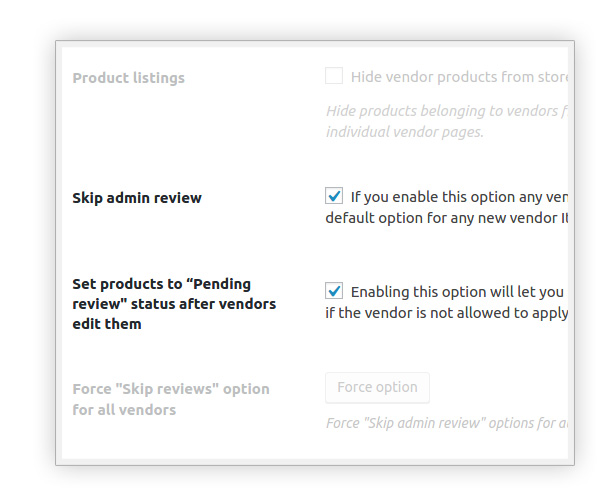 Choose the commission rates freely
You can assign different rates to the vendor shops and to the products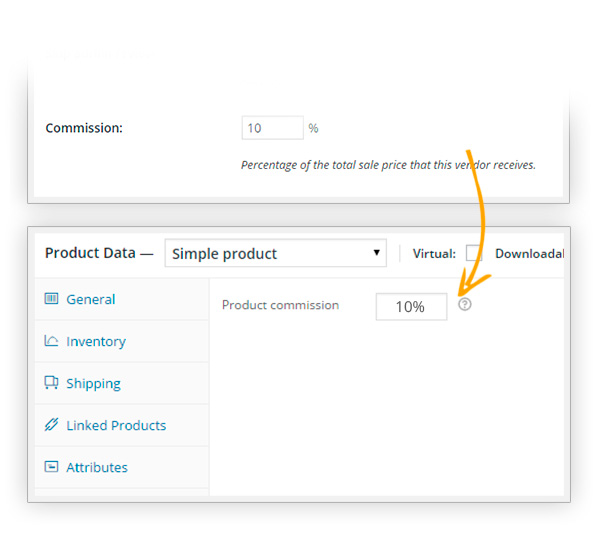 Apply actions for commissions
To change
the status of the commissions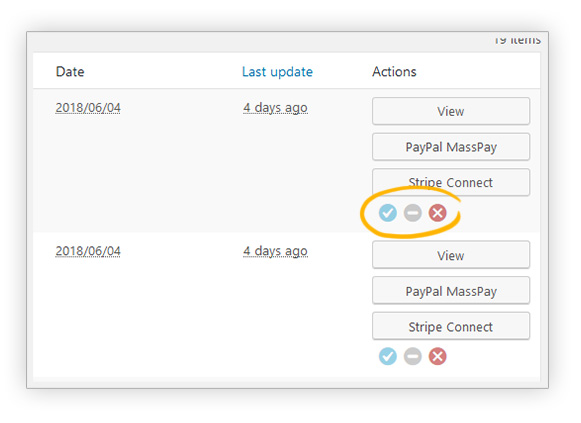 Manage coupons
Choosing whether to calculate the commission
for the discounted total or not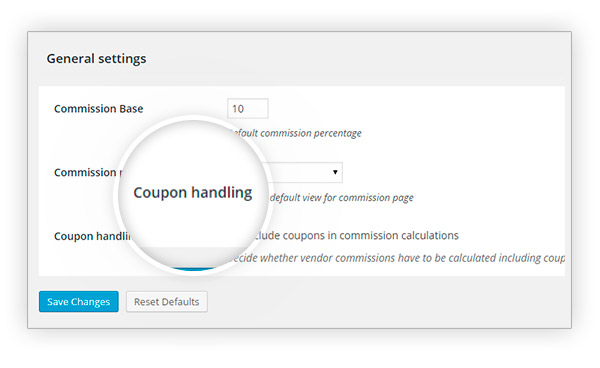 Allow vendors to create coupons
Letting them free to offer discounts or deals to the possible customers
of their products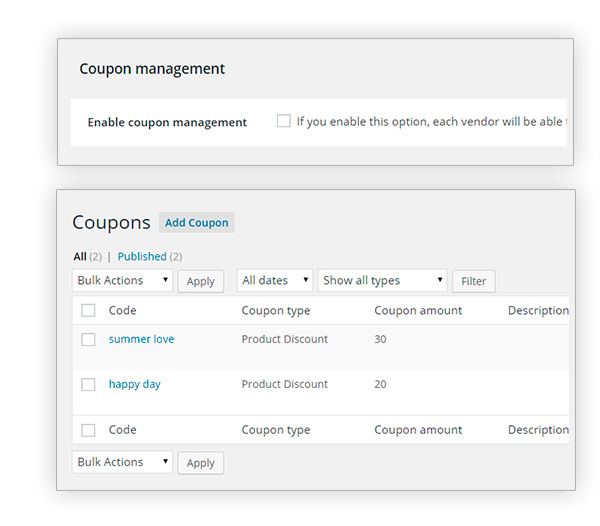 Offer a better control of the reviews
With the premium version, vendors will be able to operate on the reviews of their products just like the store administrator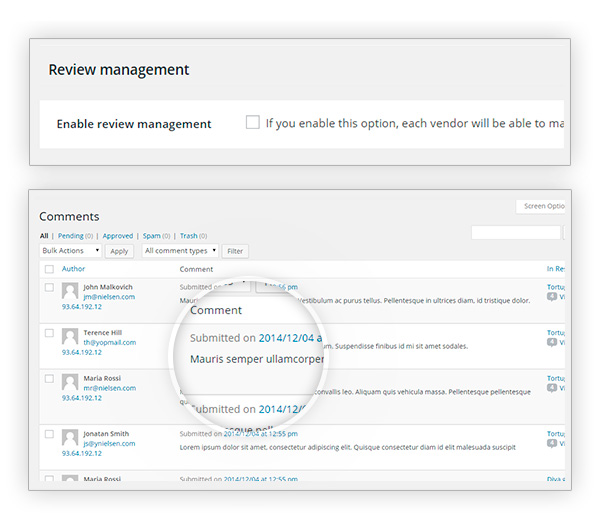 Choose your favourite payment method
To pay your vendors either manually or automatically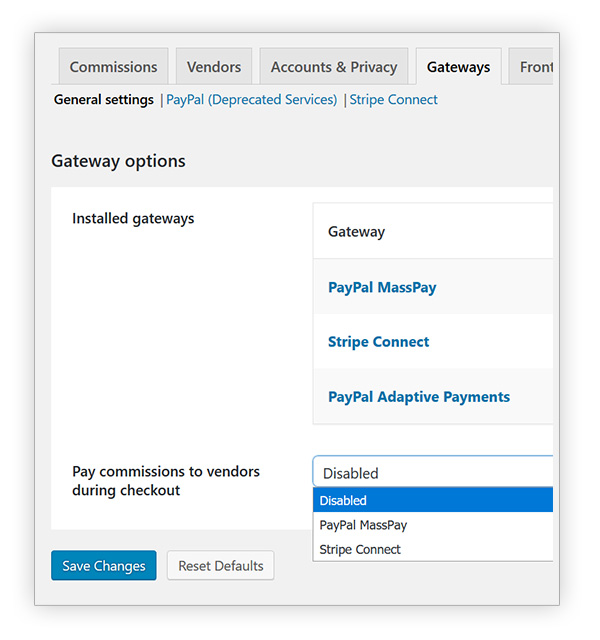 Generate advanced reports
Filled with vital information and relevant details
for the management of the site
Export data in CSV
So they can be used freely outside the WordPress environment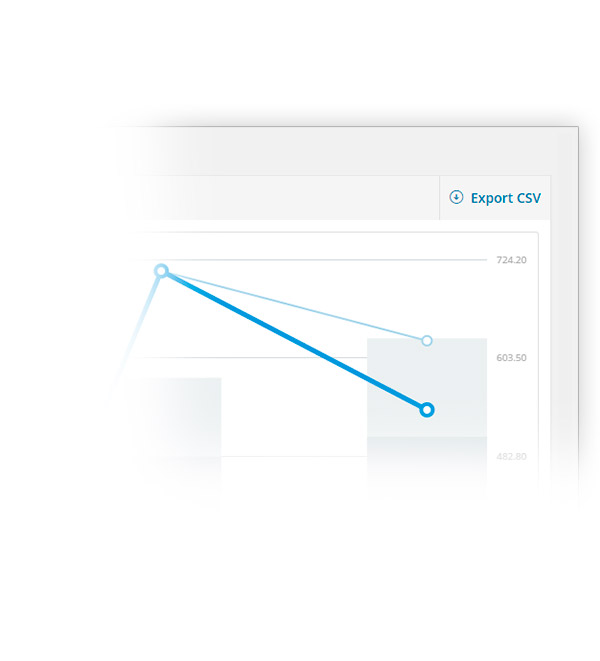 Choose in which page you want to show the vendor's name
Decide freely among the shop page, the product detail page or the product category page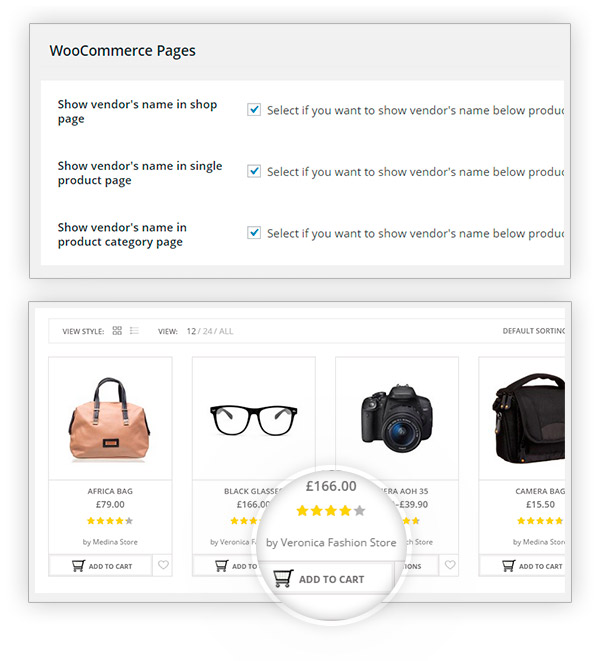 Let your users register as vendors much more rapidly
Allow registrations to be automatically approved, or use the classic manual system.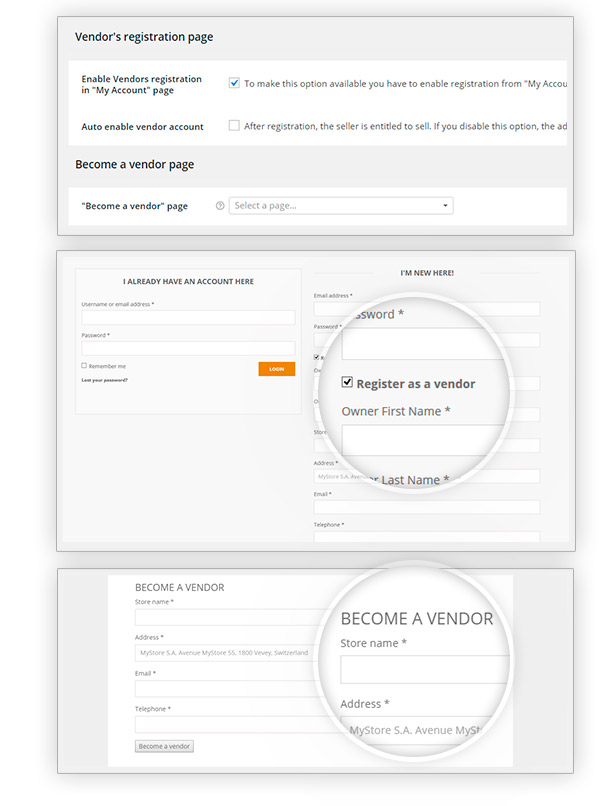 SPECIFY TERMS AND CONDITIONS
And ask your users to accept them in order to register as a vendor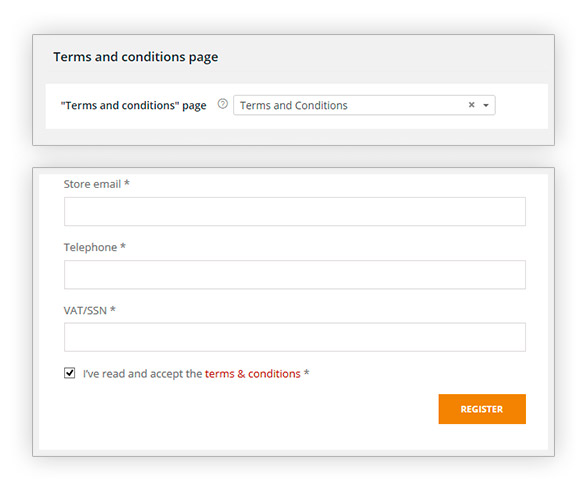 REQUIRED IBAN/BIC
To pay commissions by bank account in a fast and easy way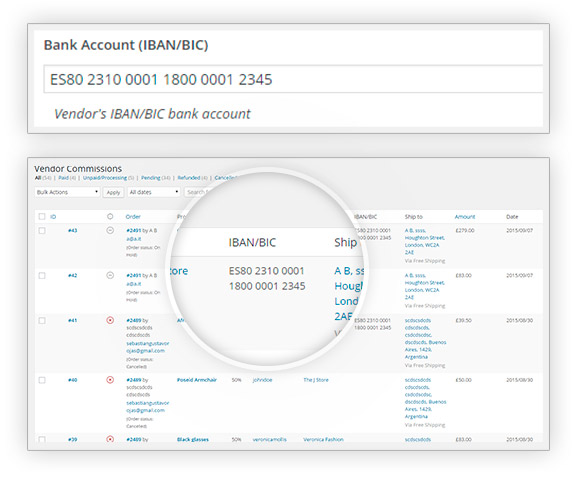 Limit the number of products for each vendor
In case you want to set a certain number of products vendors can create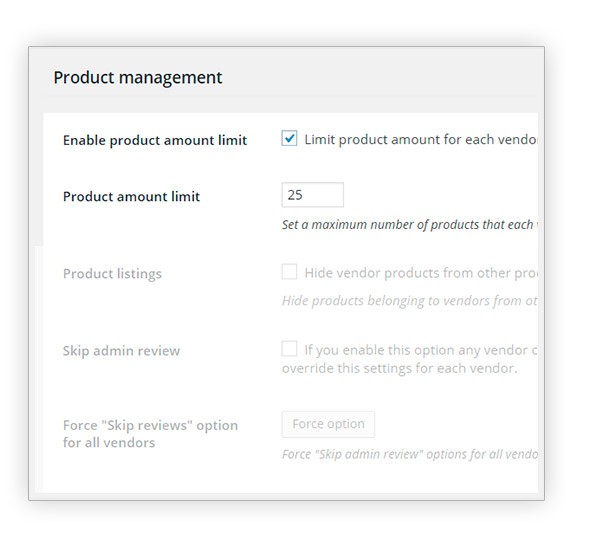 Apply changes to all vendors at the same time
Using bulk actions to manage them, approving or deleting with just one click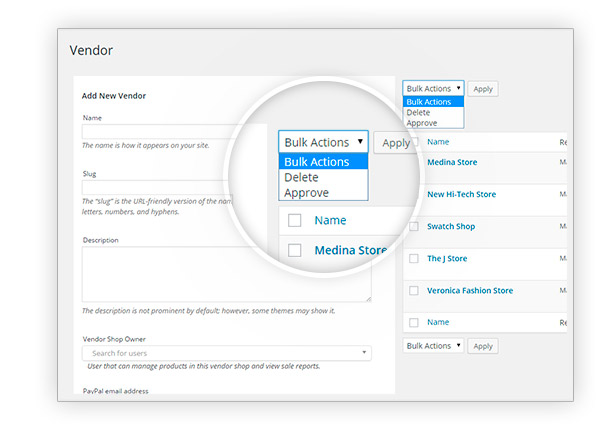 Exclude products of certain vendors from the shop
In this way, the products will no longer be visible on the shop, but only in the page of the vendor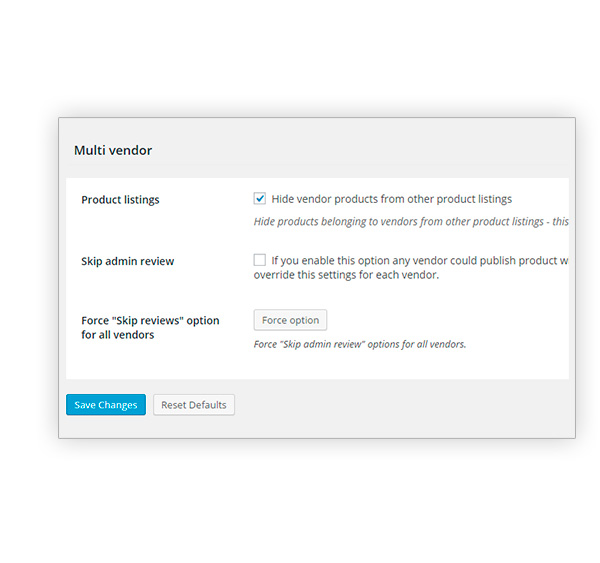 Show the complete list of vendors in your site sidebars
Thanks to the widget YITH Vendor List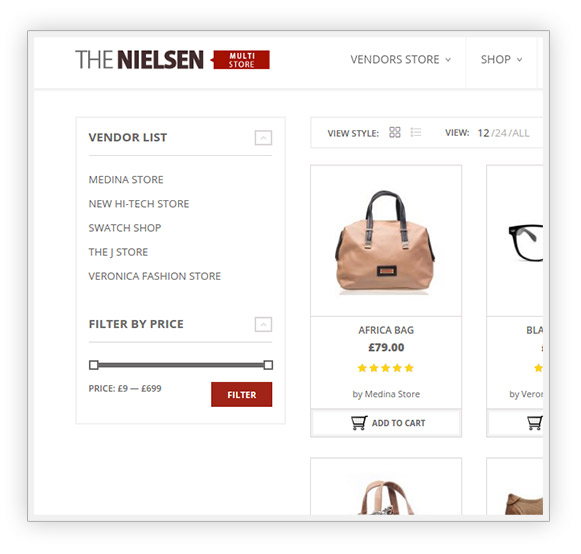 Show the Google map for each shop location
The map is calculated basing on the address available on the vendor's profile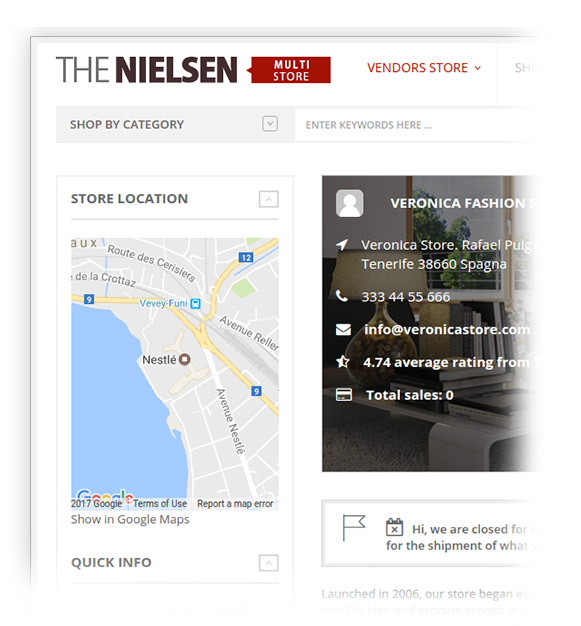 Let users ask for pre-sale questions directly to the vendors
They can send the email both from the product detail page and from the product page.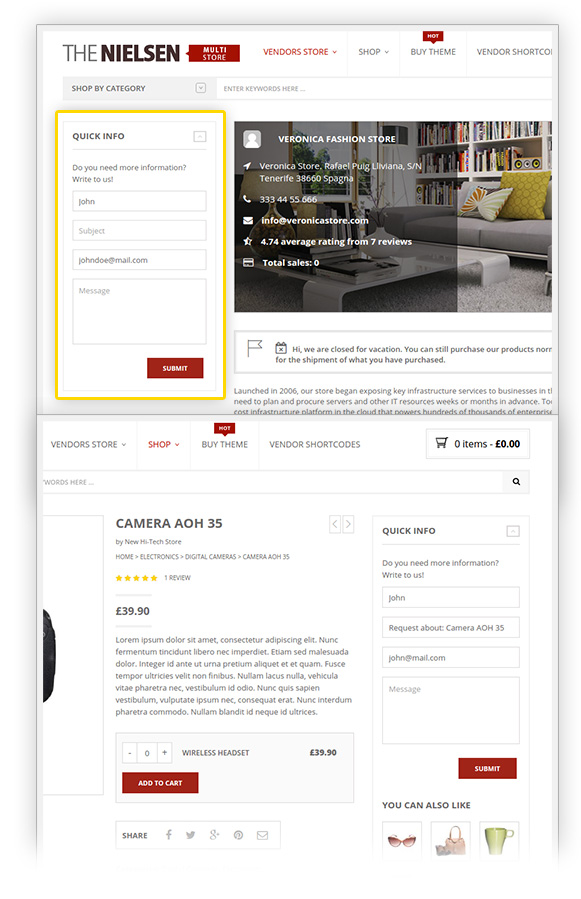 Offer an advanced administrative area
A vital management platform for every vendor, from which they can consult reports or edit information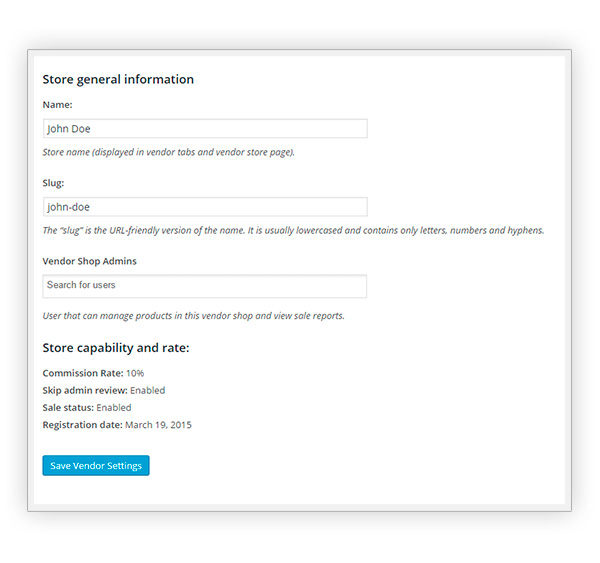 Support a better communication with users
Let administrators receive messages about the shop products from users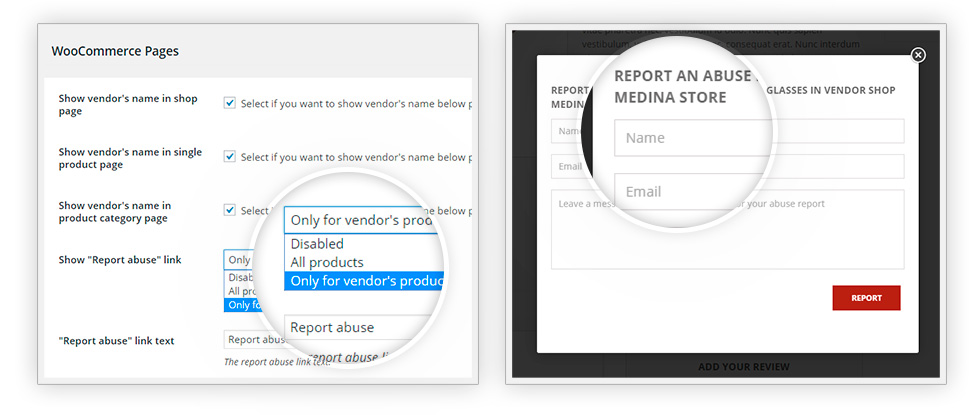 Send again an email to your new vendors
If the first one has been somehow lost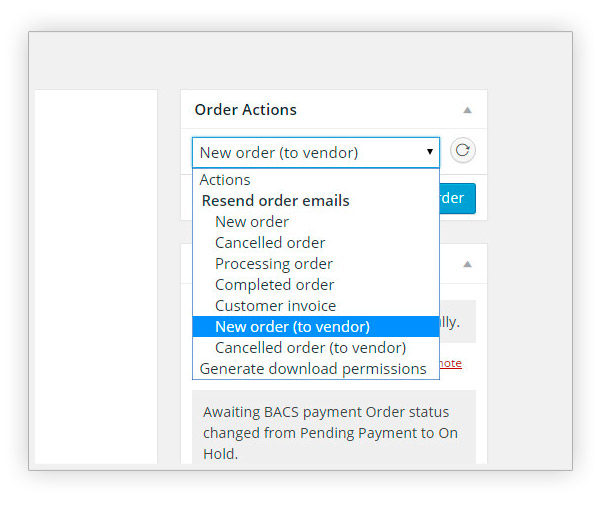 Set a minimum commission amount
That vendors have to achieve to get paid on PayPal MassPay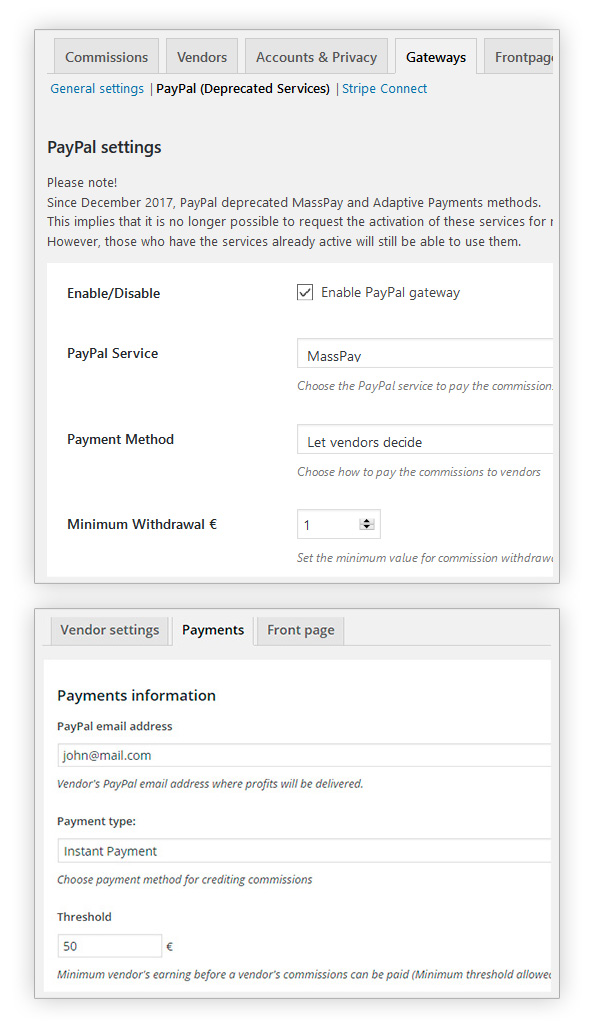 Give your vendors the possibility to set featured products
Without having to ask approval to you each time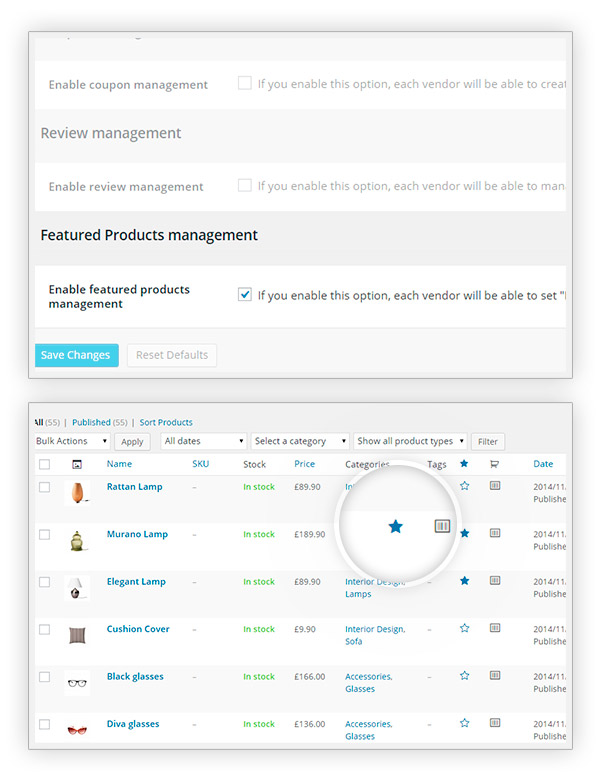 Show the number of sales for each vendor
So that users can be convinced by very active and trendy vendors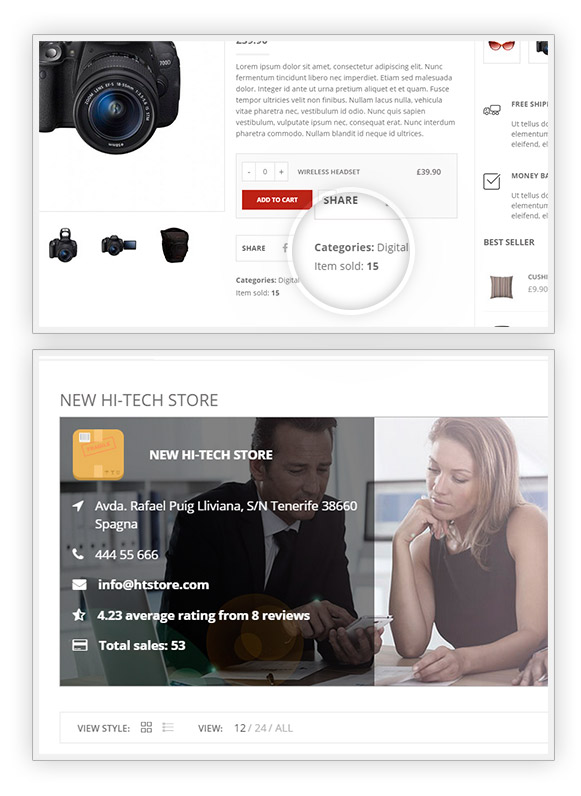 Use the shortcode YITH WooCommerce Multi Vendor List
To show the list with all vendors selling in your store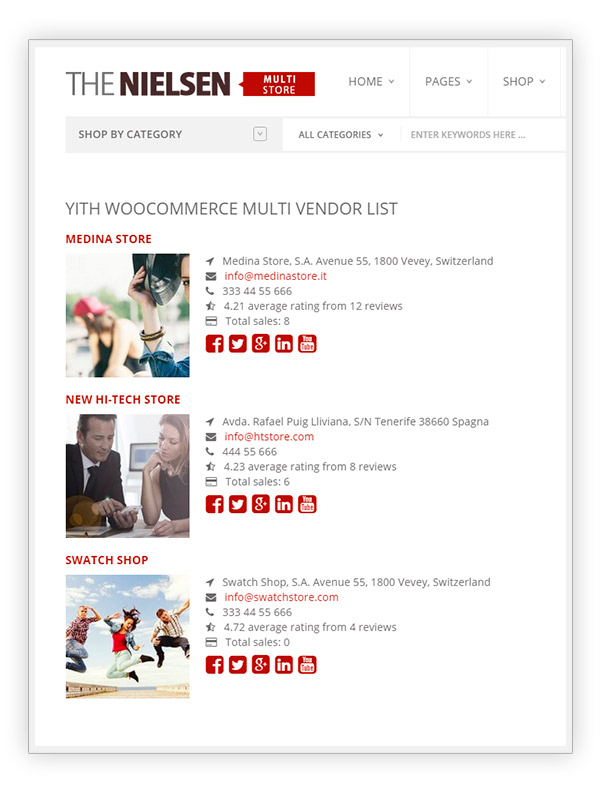 LET YOUR VENDORS CLOSE THEIR SHOPS
They can choose to keep their products purchasable, or show them in catalogue mode.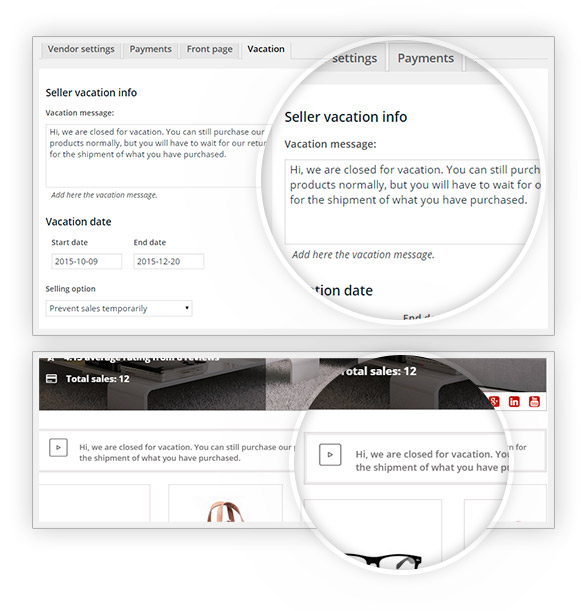 ALLOW COMMUNICATION BETWEEN VENDOR AND CUSTOMERS
Thanks to the compatibility with YITH Live Chat (not included) vendors will have a powerful tool to improve their shop
ALLOW VENDORS TO MANAGE REFUNDS
They will be free to refund partially or totally the value of the products purchased in their shops.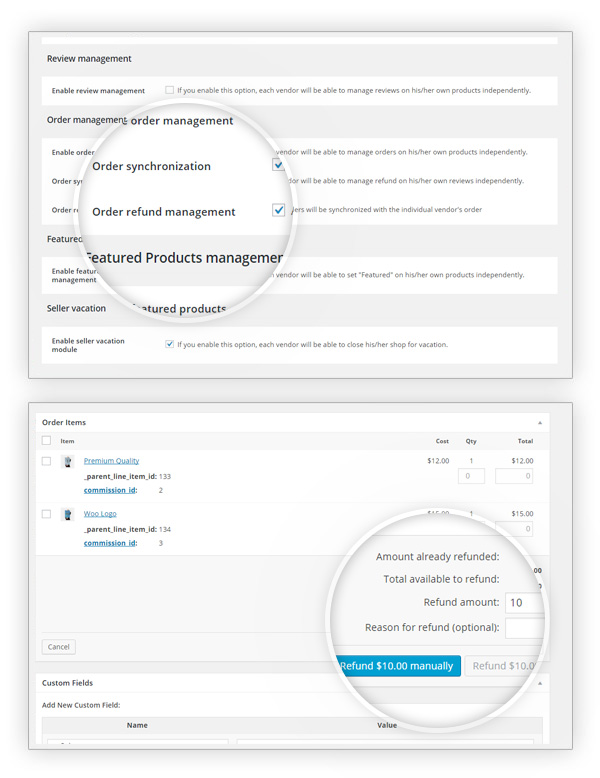 ASK VAT/SSN NUMBERS IMMEDIATELY
When users ask to become vendors, they will have to add their VAT/SSN number to complete the registration.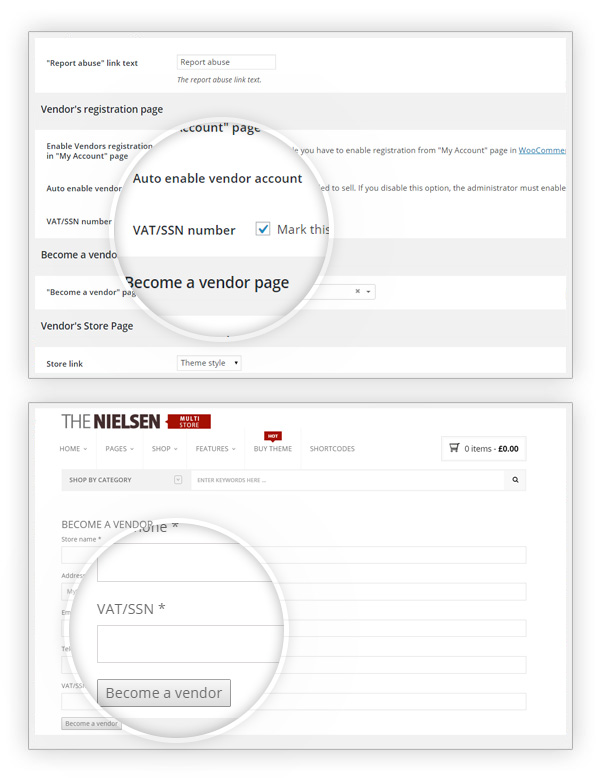 CUSTOMIZE VENDOR TAXONOMY
With the specific option according to your needs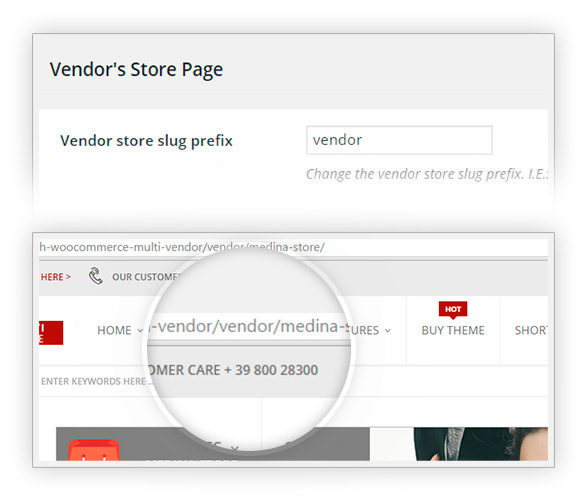 SHOW VENDORS' LOGO
And let them choose to add it in their shop pages or not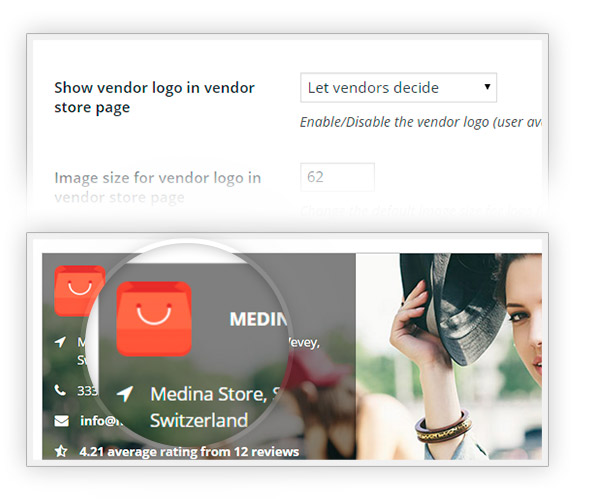 PROTECT USER PRIVACY
By hiding "Customers" search section therefore vendors can't have access to their email address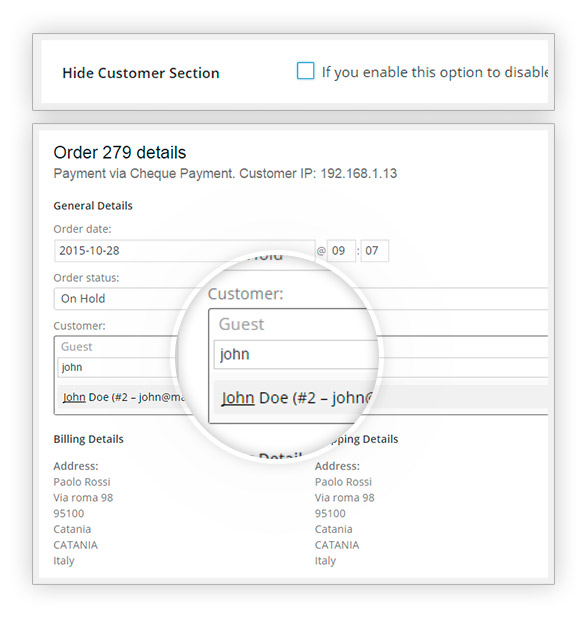 PROVIDE AN ADVANCED EDITOR
So that vendors can add a description of their shop with WordPress advanced textual editor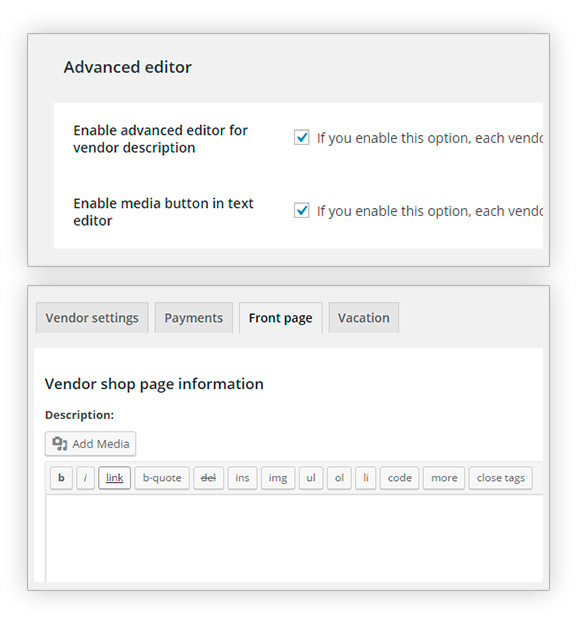 INSERT LEGAL NOTES
To show in vendor's detail page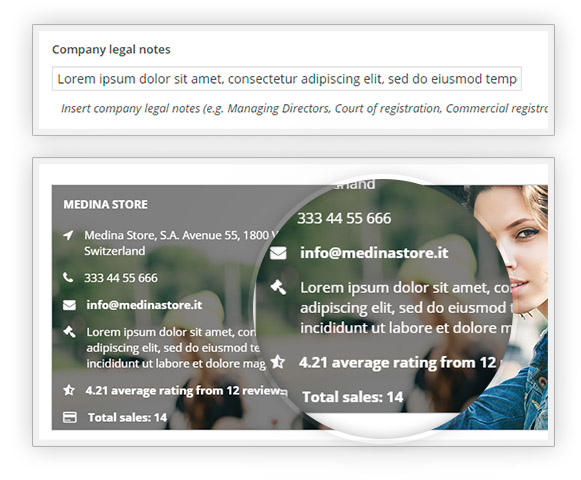 ENABLE VENDORS TO MANAGE MEDIA
All WordPress gallery functionalities to add and manage new media to combine with products for sale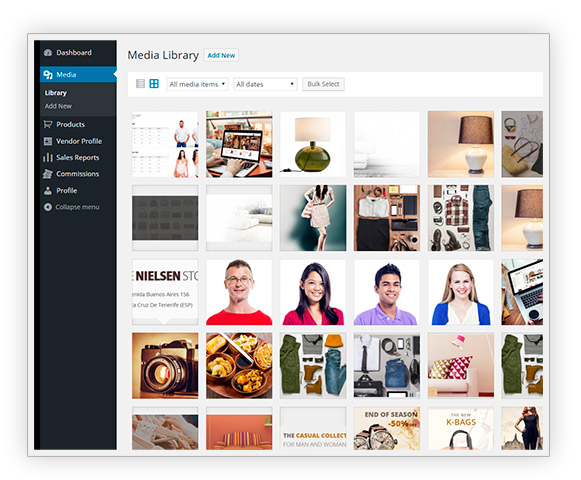 Manage Google Maps
Specify your Google API credentials to make good use of your account benefits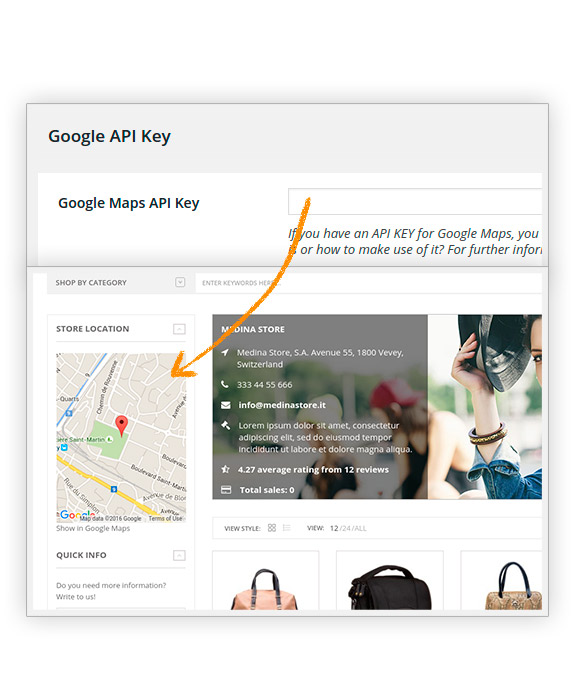 Assign products to vendors in a fast way
To optimize your management time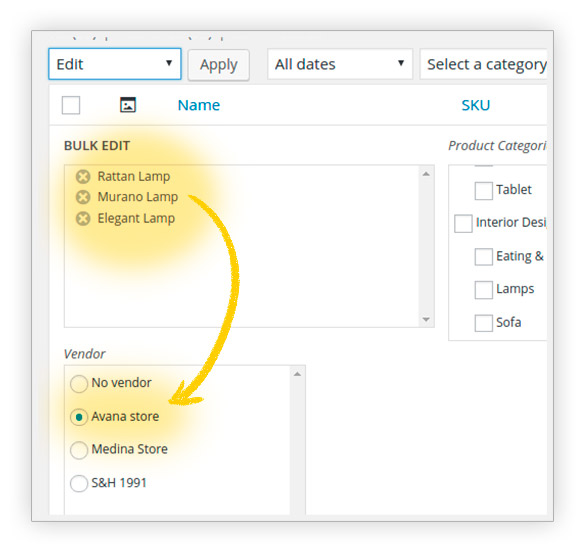 CREATE A VENDOR MENU
To show the complete list of all vendors in the shop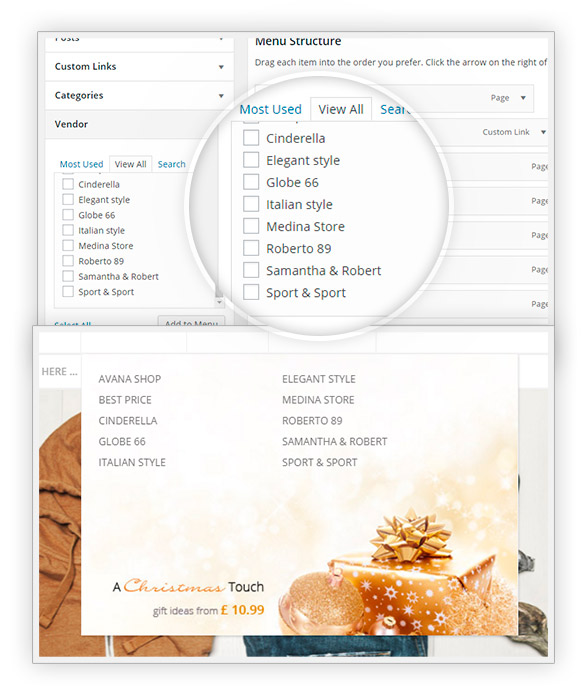 Access vendor's dashboard
Through user switch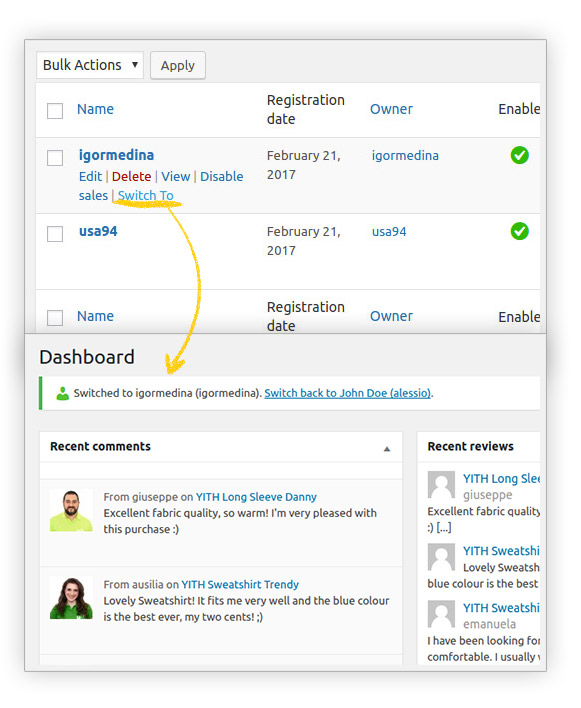 Allow vendors to manage shipping costs
Vendors manage their shippings the same way superadmin does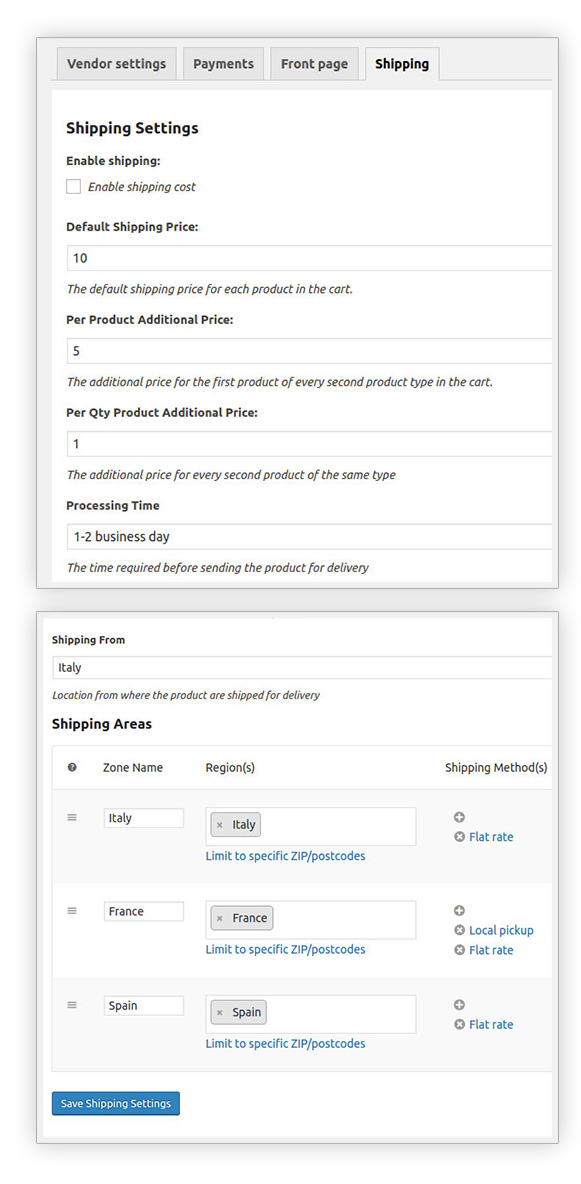 Show vendor shipping data
On each product page linked to a vendor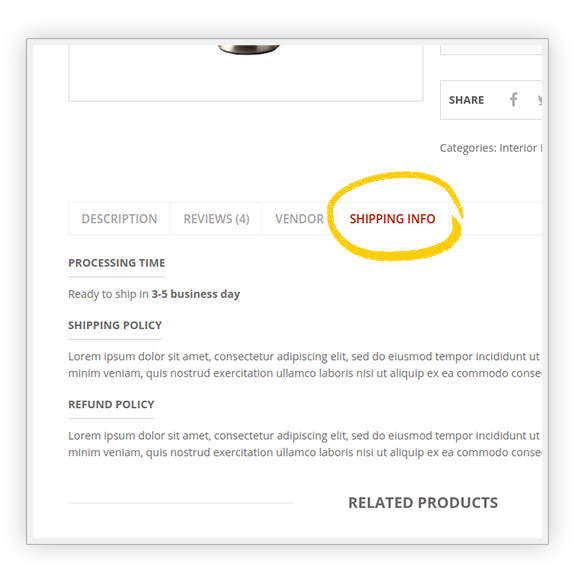 Pay vendors' commissions through Stripe Connect
And have the payments split between admin and vendor right on checkout page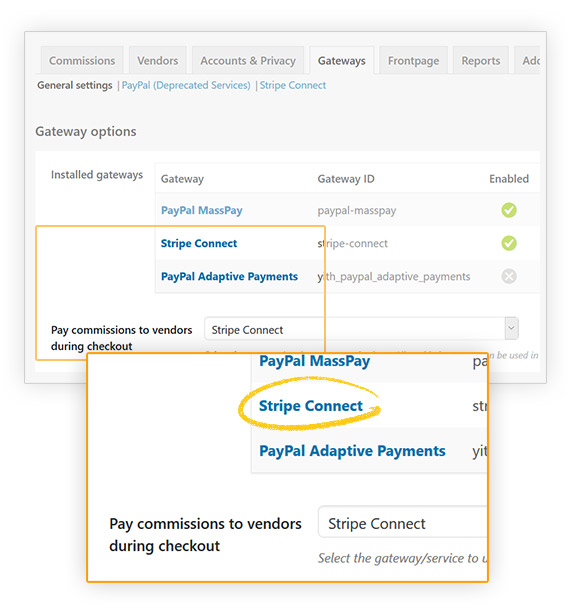 Handle Privacy Policy and data cancellation
About vendor details, uploaded media, commissions and transactions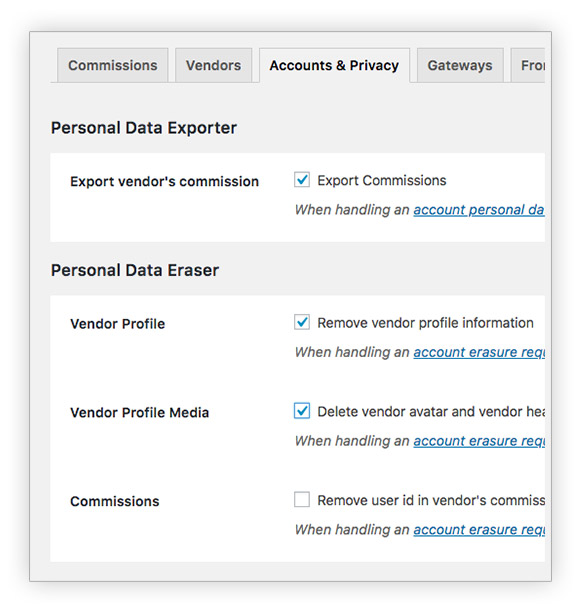 TAKE ADVANTAGE OF THE WPML COMPATIBILITY
You are free to translate the plugin with the powerful WPML tool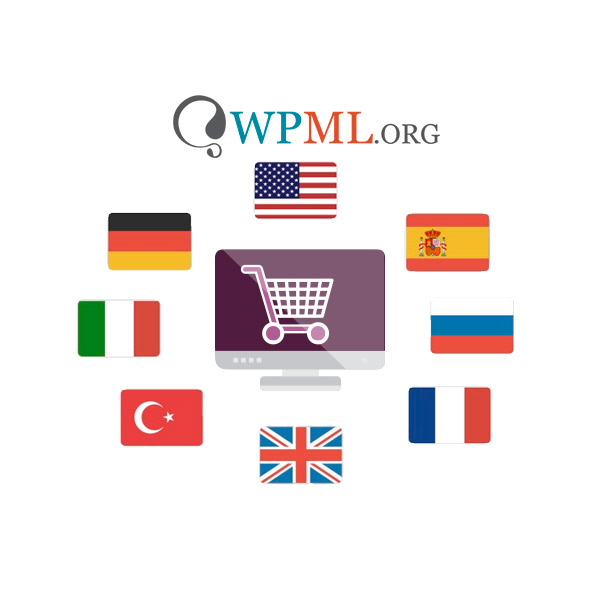 See How To Download