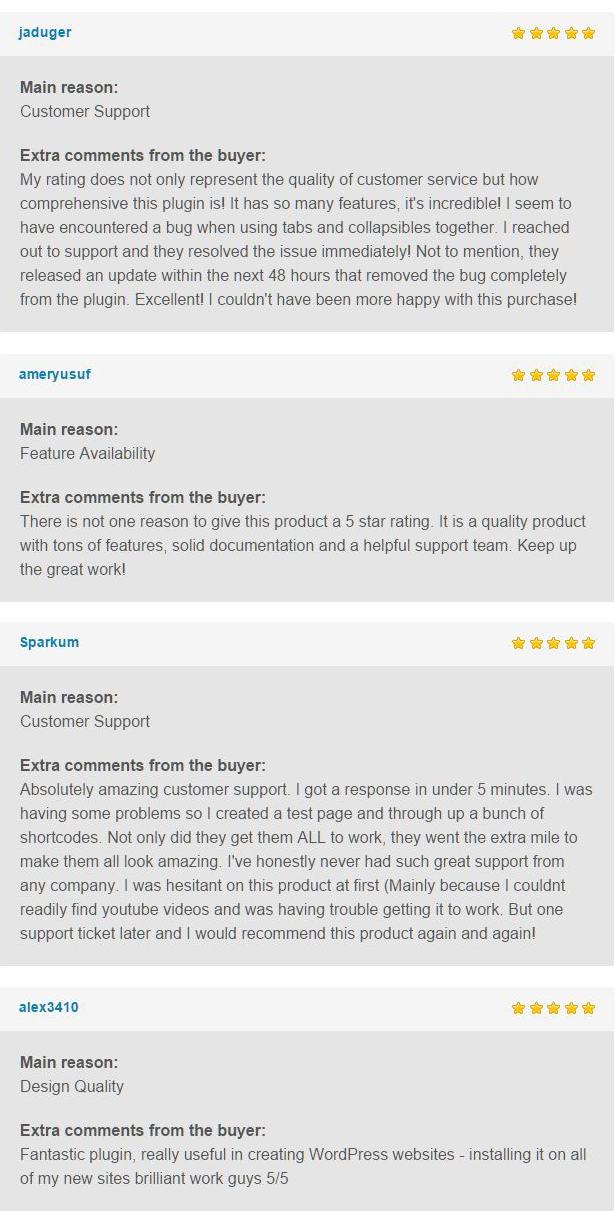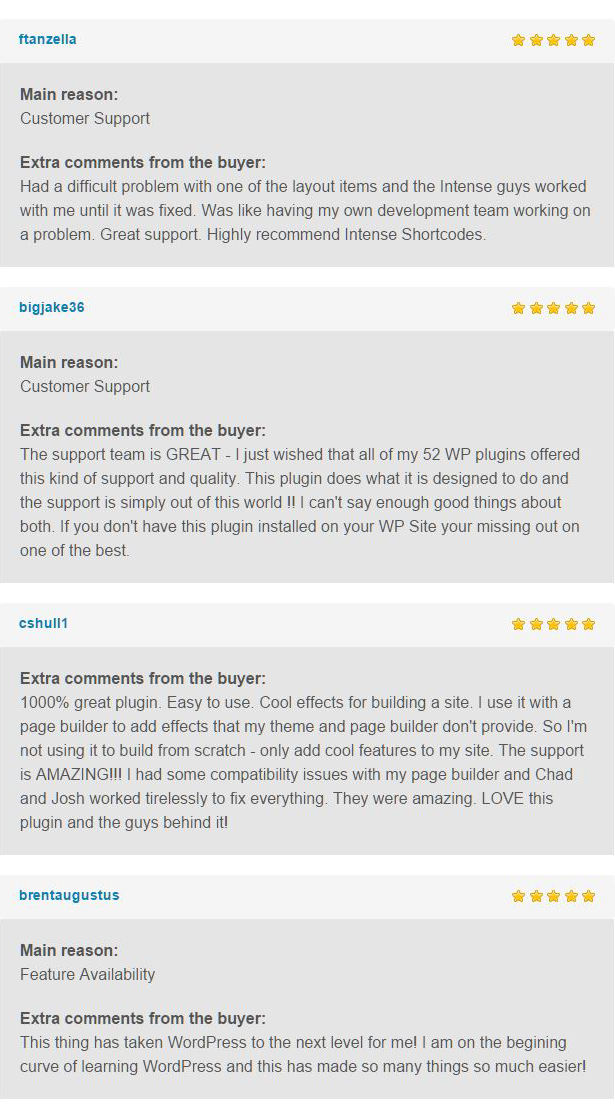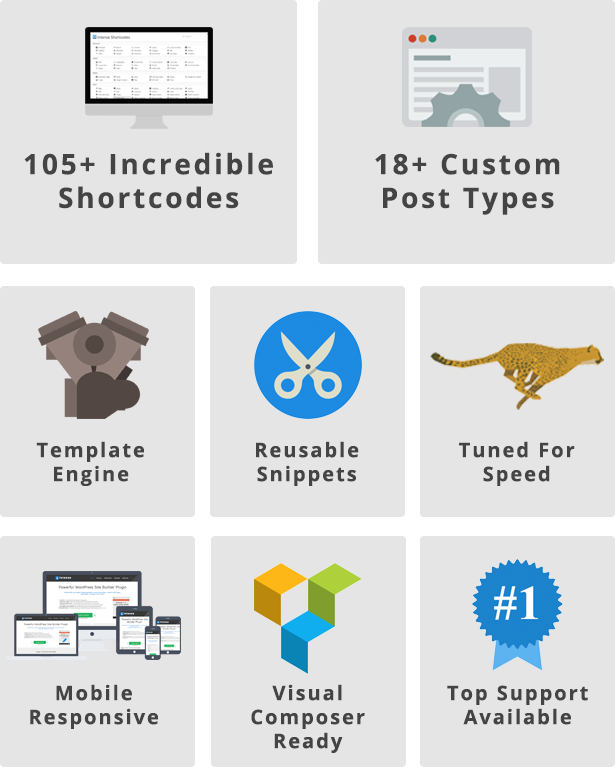 INTENSE SHORTCODES AND SITE BUILDER
Intense is built on Twitter Bootstrap. It includes parallax content sections with images. Many image hover effect options with Adipoli and Effeckts CSS. Filter blog, and 15 other custom post types with transition effects using MixItUp. INTENSE SHORTCODES AND SITE BUILDER
Photo sources include Facebook, Flickr, Instagram, SmugMug, deviantART, Zenfolio, and 500px.
Easily create shortcodes with the use of shortcode editor dialogs.
Current version: 2.9.3 (See changelog near bottom of this page)
View our plugin documentation at docs.intenseplugin.com
What People Are Saying About Intense
"Absolutely incredible. 100% recommend to all, the best plugin for shortcodes anywhere on the market." – giohawk
"Excellent product and STELLAR customer service…support like I've never experienced before…thank you!" – ojfields
"Excellent plugin, it has saved my bacon several times." – asiostudio
"Best shortcode plugin! Guys, it's even better than Visual Composer! Functions are much wider. Very professional plugin. Love it." – alexus13
Shortcodes
Elements
Animated – Animated allows for animating items on a page.
Button – Adds a clickable button to the page.
Counter – Displays an incrementing/decrementing number that can be styled.
Guests – Show special content for your guests in WordPress. The guests shortcode content will only be shown to non–registered users.
Horizontal Ruler – Places a horizontal ruler on the page used for separating content.
Icon – Used to add image icons.
Lightbox – Add images, videos, html and iframe content within the lightbox shortcode.
Members – Show special content for your members in WordPress. The members shortcode content will only be shown to registered users.
Permalink – The permalink shortcode allows you to add links to pages or posts on your WordPress site.
Progress – Displays a progress bar on the page.
RSS – Show RSS feed posts in a list using the RSS shortcode.
Siblings – Add a list of sibling pages using the siblings shortcode.
Slider – Adds a slider to the page allowing you to rotate between several items.
Snippet – You can use the Snippet shortcode to reuse the same snippet across multiple pages, with the luxury of only maintaining the code in one place.
Social Icon – Adds a social icon to the page.
Social Share – The social share shortcode will allow a user to share a post or page to Facebook, Google+, Pinterest, Twitter, LinkedIn or StumbleUpon.
Sub Pages – The subpages shortcode shows a list of pages that are sub pages/children of a given page.
Template – Use the template shortcode to add the content of a file template to the post or page.
Layout
Alert – Alerts are used to notify the user of information.
Collapsible – Adds a collapsible accordion to the page.
Content Box – Adds a content box to the page.
Content Section – Add a content section to your page.
Hover Box – Allows you to add a little style to your images with seven different hover transitions.
Icon List – Adds a bulletted list of items to a page with the bullets being an icon of your choice.
Layout Row – Organize your content into rows and columns for a clean visual look.
Masonry – Show content on your pages in a responsive masonry layout using the masonry shortcode.
Menu – Add vertical or horizontal menus to your WordPress site using the menu shortcode
Parallax Scene – Allows you to create a content section where you can add transparent layers stacked on top of each other.
Person – Add a person to your page/post.
Pricing Table – Add a pricing table to WordPress with the pricing table shortcode.
Promotional Box – Add a promotional box to your page/post.
Spacer – Adds a spacer between sections on your page.
Table – Adds a styled table with column headers and data.
Tabs – Adds tabs to the page/post.
Testimonies – Allows you to add testimonies to your page.
Timeline – Allows you to add a timeline, with multiple events.
INTENSE SHORTCODES AND SITE BUILDER
Media
Animated Image – The animated image shortcode adds animated images that slide left, right, up, or down along the screen
Audio – The audio shortcode lets you play mp3 and ogg files on your WordPress pages.
Chart – Adds a bar, line, radial, polar area, pie, or doughnut chart.
Device Mockups – The device mockups shortcode works in conjunction with the Device Mockups plugin and allows you to show your work in high resolution, responsive device mockups
Fullscreen Video – Shows a fullscreen video in the background of the page/post.
Gallery – Adds an image gallery to the page.
Google Docs Viewer – Add a document (ex. PDF, PowerPoint, Word, etc.) to your WordPress websites using Google Docs Viewer.
Image – Adds an image with several different effects and options.
Image Compare – Compare two images on top of each other.
Map – Used to add a Google map to your page.
Post Media – Used to add post media (images, video, audio) to your page.
QR Code – Adds a QR code chart.
Video – Used to add a responsive video from WordPress and many popular sites.
Posts
Typography
Custom Post Types
See How To Download