Justlanded WordPress Landing page Theme

This is a Deprecated Product that has reached its End of Life – Sold As-Is, No Customer Support, No Refunds
JustLanded was first published in 2012 as our very first WordPress theme. The theme was deprecated in the fall of 2018, is no longer in development and we will no longer add new features. Active support has been discontinued. There is no access to customer support with this purchase. Existing customers, however, still enjoy 6 months of support included with their purchase, support extensions are no longer being offered, though.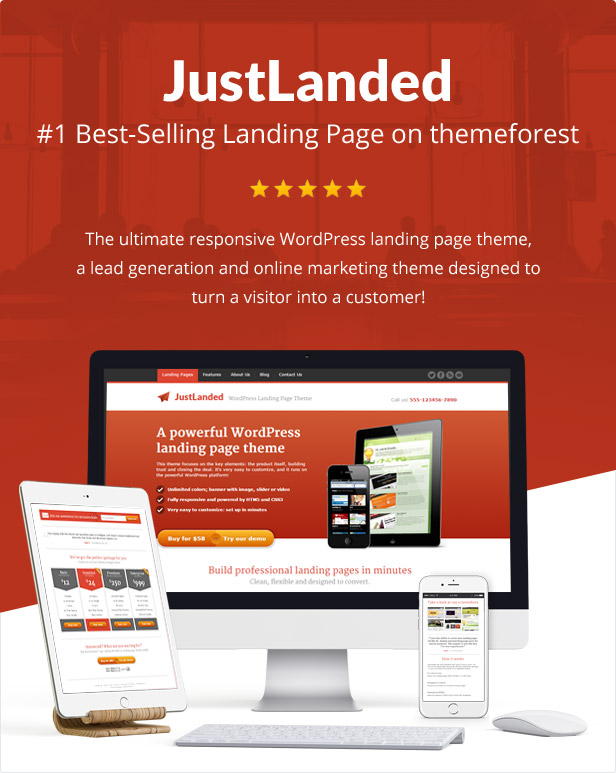 JustLanded the powerful responsive WordPress landing page theme that simply works.
JustLanded for WordPress is the ultimate responsive WordPress landing page theme.
We took our successful JustLanded landing page template, turned everything complicated into something tangible and simple and added some WordPress magic. With JustLanded for WordPress your options for building landing pages with WordPress are endless, and you get a whole matching WordPress theme! Simply create and let JustLanded for WordPress do the rest.

Justlanded WordPress Landing page Theme features:
LANDING PAGE
Create Multiple Landing Pages
Multiple Landing Pages – e.g. give every product a landing page or sales page, create different versions of your landing page or sales page for conversion testing
Each landing page can have its own design, layout, menus etc.
All the building blocks to create a stunning WordPress landing page
Social Media Icons – Facebook, Twitter, Pinterest, Dribbble, YouTube and more
Feature List – powerful feature lists with unlimited items
Screenshot Gallery with Lightbox – unlimited screenshots
Testimonials – featured testimonial and unlimited 'small testimonial' blocks w/avatars, as well as testimonial slider and testimonial slider sidebar widget
Pricing Table – unlimited packages/items
Payment Icons – payment icons for major payment processing providers
Call To Action Buttons – beautiful matching CTA buttons, integrated in banner and payment options section, unlimited, user-defined colors
Modal Windows – Connect the banner's call to action buttons to modal windows to display additional information or CF7 forms without a need for your visitors to leave the page.
Fully Customizable Banner:
As your landing page's banner is the most prominent feature and the first thing a customers sees, we want you to be able to make the most of it. With JustLanded for WordPress you can make your banner do just about anything…
And if that's not enough you can freely define the banner's contents, using custom HTML and shortcodes, even layout blocks. You can also turn a WordPress page into a banner for your landing page!
Mailing List Integration: Promote Your List Everywher
Click here to download Justlanded WordPress Landing page Theme
See How To Download