MINIMUM PRO WORDPRESS THEME
The Minimum Pro theme from StudioPress is an updated version of the Minimum 2 theme, adding HTML5 support and some design changes to an already popular theme.
For existing Minimum users, let's start by looking at what has changed. Minimum Pro now features a fixed menu at the top of the page that changes to a mobile-specific menu for screen widths of 768 pixels or below. The default font has been changed from the Open Sans family to Roboto. One widget area from Minimum 2, the Custom Footer, has been dropped. One new widget area has been added to Minimum Pro, Site Tagline Right, but perform users won't see much difference here, since we've always supplied a widget area in place of the standard home page image for Minimum 2. MINIMUM PRO WORDPRESS THEME 
MINIMUM PRO WORDPRESS THEME
There are other differences, including both obvious changes and others that you'll only discover after using the theme for a bit. For example, Minimum Pro now grabs your site tagline from the Tagline field on Settings->General menu of your dashboard and puts it in a visible place on the home page, so you're sure to catch that. The theme limits the depth of the secondary menu to 1 level, something that might not be obvious on first glance. MINIMUM PRO WORDPRESS THEME 
Like its predecessor, until you put content in at least 1 widget area, Minimum Pro displays a blog style home page. Once you start building your site by putting content in widgets, the Minimum Pro home page includes a mix of content from widget areas and posts arranged in a grid. MINIMUM PRO WORDPRESS THEME 
MINIMUM PRO WORDPRESS THEME
Released on 8/26/13, Minimum Pro is a 2 column theme with 3 layout options and a widgetized home page. Three of the standard Genesis layouts have been removed to simplify content creation. Beyond the WordPress standards of custom menus and threaded comments, Minimum Pro also supports custom headers, custom backgrounds with the Backstretch script, and Google web fonts (specifically, Roboto and Roboto Slab). The selected fonts and weights add about 98 Kb to the site's page weight, which is a lot for typography. MINIMUM PRO WORDPRESS THEME 
In our Minimum Pro demo, the image on the home page is a custom background.
Minimum Pro has a total of 10 widget areas, 3 of which are footer widgets that divide the page into equal parts.
All of the supported widget areas for our customized Minimum Pro theme are shown below: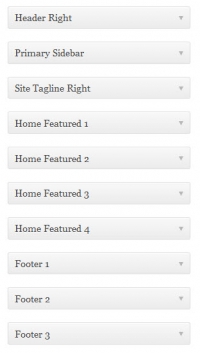 And here's a full length image of the theme's home page:
A stunning execution of "less is more", the Minimum child theme expresses everything you're about, with very little effort. Clean, elegant, powerful, unfettered, and uncluttered are a just few words that say… Minimum. MINIMUM PRO WORDPRESS THEME 
See How To Download