Mr Tailor eCommerce WordPress Theme
Mr. Tailor 2.9 is out! Compatible with the latest WordPress and WooCommerce. Get it while it's still hot!
Mr Tailor eCommerce WordPress Theme
Mr. Tailor is a beginner-friendly Premium Theme for WooCommerce suitable for small business owners to showcase and sell their products online.
 
 
Easy Installation & SetupImport the demo content, edit and customize it to your needs, add your products and start selling online.
 
 
Hassle-Free
Updates and SupportWe?re constantly working on improving the theme, keeping it up to date with the technology around.
 
 
Theme Documentation
& Video Guides for BeginnersStep by step guides accompanied by video walkthroughs will help you configure and customize your new theme.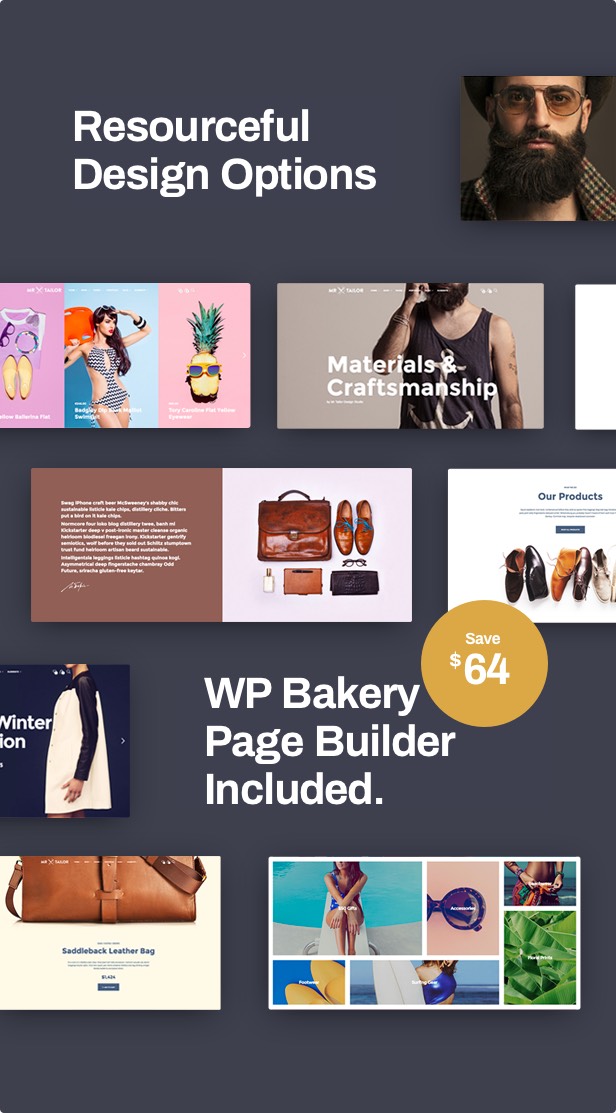 Fully Customizable ? Powerful Theme Options PanelTake control over the appearance of your site using the Theme Options panel. Make it unique in a few clicks.
 
 
Advanced Typography OptionsThe theme integrates Google Web Fonts, offering you a large variety of typefaces to choose from when customizing the theme.
 
 
Fully Responsive DesignA beautiful experience on any device, desktop, tablet or phone.
 
 
Portfolio Gallery To
Showcase Your WorkThe importable dummy data will help you get started with building pages like the ones you see in the theme demo.
                                                                                                                     
                                                                                                                     
Sell Anything OnlineShippable or Downloadable Products, you got everything you need to start a powerful online store and manage it like a boss.
 
 
Color, Size, etc –
Variable ProductsSell products in different variations, such as color, size or anything else that makes sense to your items.
 
 
Digital DownloadsSell eBooks, digital photography, music, design templates or any other downloadable products.
 
 
Customer ReviewsAdd more value to your store items by engaging users into reviewing them for better social validation.
 
 
Start an Affiliate BusinessEarn money online by selling products from external sites and affiliate partners such as amazon.com.
 
 
Collect PaymentsPayPal, Credit Cards, Checks, Cash on Delivery. These are built-in payment methods, but you?re not limited to the ones listed above.
 
 
Sell Anywhere –
Your Language, Your CurrencyCalculate shipping fees and collect taxes on the go for each order.
 
 
Manage Inventories,
Get Business Insights with ReportsKeep up with the store performance using the built-in reports. Track orders, customers and stock.
 
 
Catalog Mode –
Turning off the eCommerceMr Tailor was specifically built to help you achieve an amazing online shopping experience. As a store manager, you?ll love WooCommerce.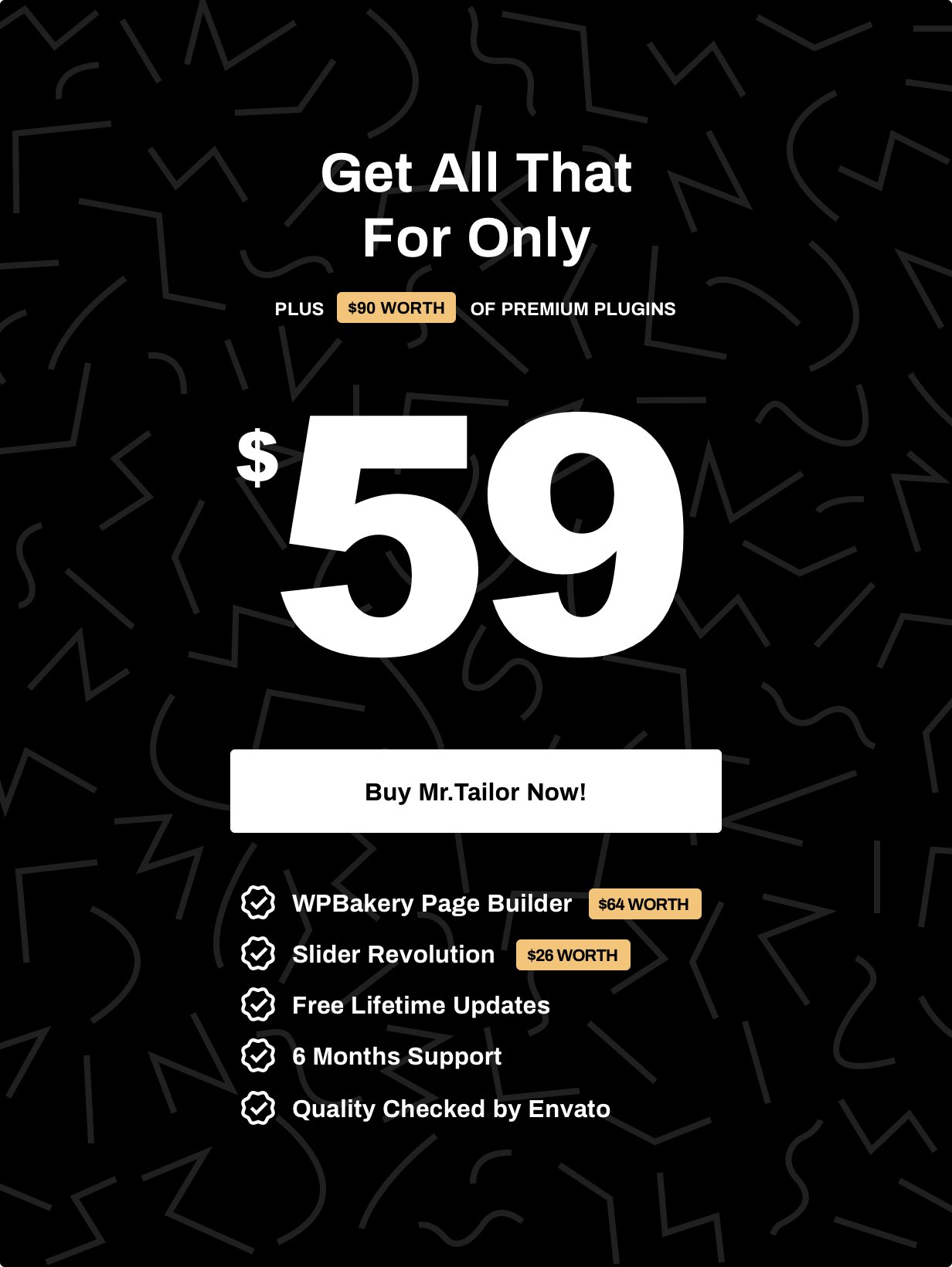 | | | | | |
| --- | --- | --- | --- | --- |
|         |   |   |   |   |
|   |                      |       | We believe in 100% customer satisfaction and that is why we are offering all customers a 30 day money-back guarantee!If you are not satisfied with Mr. Tailor, you may return the item within 30 days. No questions asked.Mr Tailor eCommerce WordPress Theme |   |
|   |   |   |   |        |
Mr Tailor eCommerce WordPress Theme
Extended Features List
Quick Installation;
One-Click-Demo Import;
Automatic Updates;
Header and Navigation Options
Instead of providing a few different fixed header templates or styles, Mr. Tailor allows you to adjust, customize, enable or disable individual elements of the header which means unlimited options.Mr Tailor eCommerce WordPress Theme
Sticky Header with alternative logo;
Header Transparency;
Header Backgrounds;
Adjustable Header size;
Enable/Disable the Top Bar;
Social Media Icons;
Multi-Column drop-down menus;
Image backgrounds for drop-down menus;
Centered logo alternative;
Adjustable navigation font size and color;
WPBakery's Page Builder
See How To Download