YITH WOOCOMMERCE MINIMUM MAXIMUM QUANTITY
Guide your users to the correct purchase of some products and set minimum or maximum quantity for them
Requires: WordPress 4.5 or higher and WooCommerce 4.0.x or higher
Compatible up to: WordPress 5.4.x and WooCommerce 4.3.x
Minimum PHP version: 5.6
Version: 1.5.0
Released: 2020-07-08
Supported multilanguage plugins: WPML, Weglot, Loco Translate
Translation ready: YES
Languages: Dutch (100%), English(100%), Italian (100%), Spanish (98%)
Support to: All YITH themes. All YITH plugins.
GDPR Compliant: UNNECESSARY
> View documentation> View changelog> Ask support
WITH YITH MINIMUM MAXIMUM QUANTITY YOU CAN:
SET RESTRICTIONS ON PRODUCT QUANTITY
Have an effect on products in the cart, and choose a minimum and a maximum quantity of products to allow purchases.
YITH WOOCOMMERCE MINIMUM MAXIMUM QUANTITY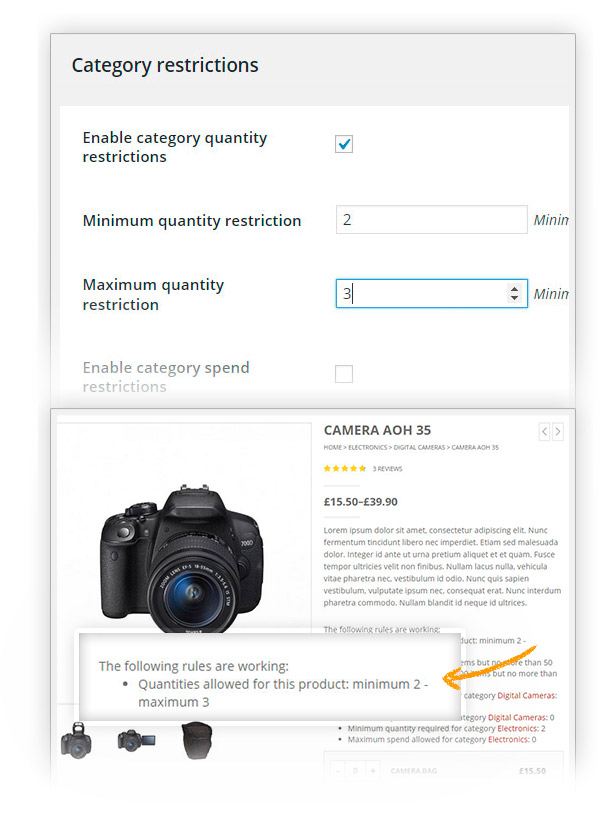 SET RESTRICTIONS ON SPEND AMOUNT
Select the minimum and maximum spend amount to complete an order.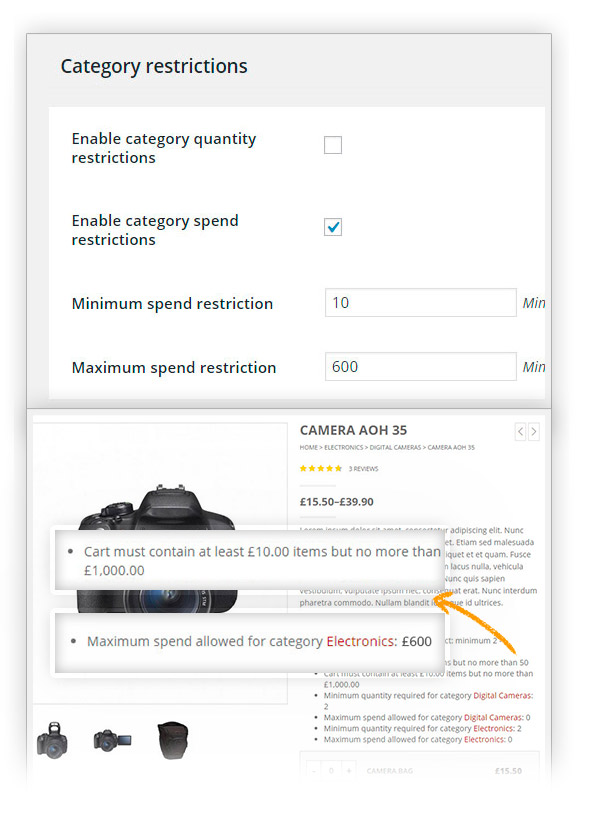 USE YOUR PURCHASE RULES
Choose the rules you want and apply them to your shop, displaying the complete list to your users in the product detail page.YITH WOOCOMMERCE MINIMUM MAXIMUM QUANTITY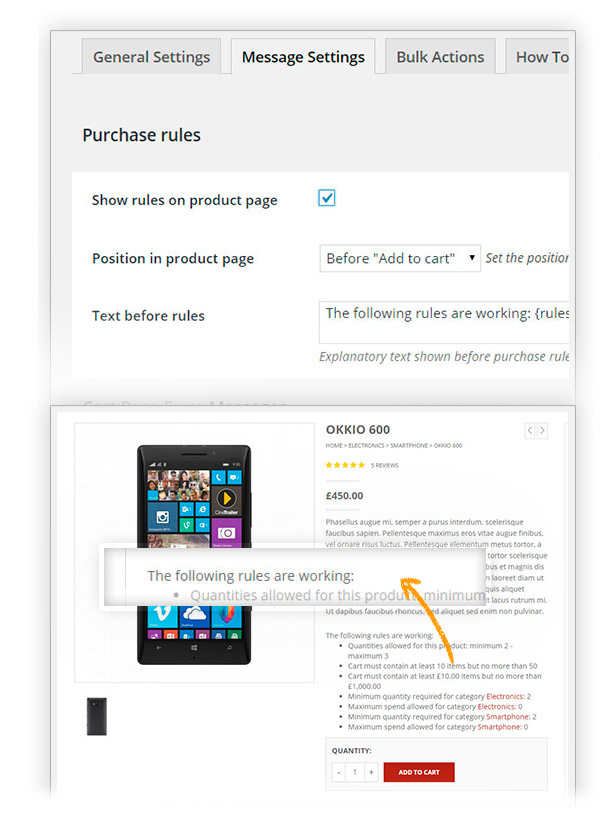 CUSTOMIZE ERROR MESSAGES
You have the full control over the messages to show to your users when they don't follow your rules.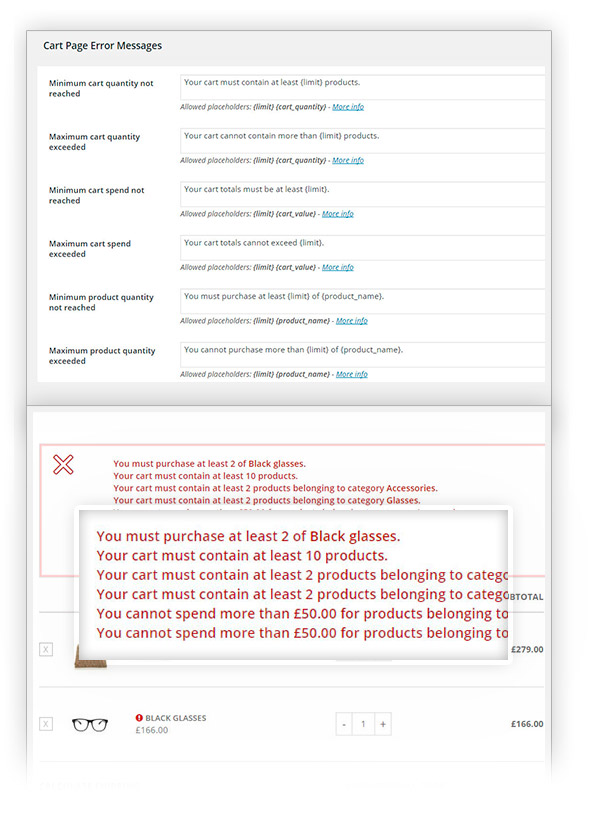 EXCLUDE PARTICULAR PRODUCTS FROM PURCHASE RULES
As administrator of your online shop, you are free too unbound the products you want from the application of the general rules.YITH WOOCOMMERCE MINIMUM MAXIMUM QUANTITY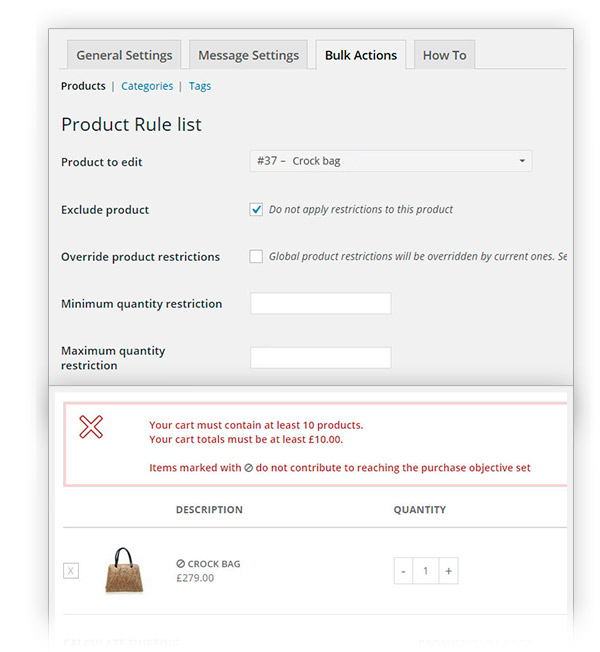 APPLY RESTRICTIONS ON MORE PRODUCTS AT THE SAME TIME
Spare time and apply restrictions with just one click!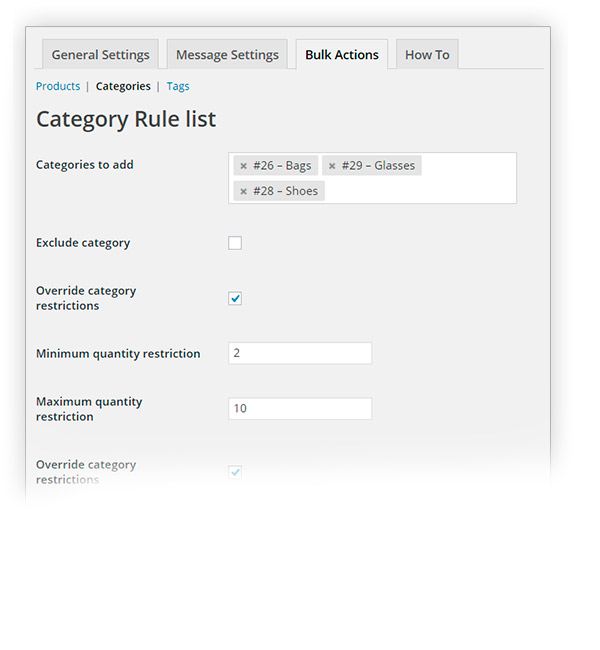 Take advantage of the wpml compatibility
You are free to easily translate the plugin with the powerful WPML tool
YITH WOOCOMMERCE MINIMUM MAXIMUM QUANTITY
FEATURES
Set a minimum and maximum spend amount in the cart (fees included or excluded)
Set a minimum number of products required in the cart or a maximum number allowed
Set a minimum or maximum number of products in the cart belonging to a specific category
Set a minimum or maximum spend amount for products in the cart belonging to a specific category
Set a minimum or maximum quantity of products in the cart having the same tag
Set a minimum or maximum spend amount for the products in the cart having the same tag
Show all purchase rules on the product page
Enable quantity/amount error messages in cart page and when "Add to cart" button is clicked
Customise quantity/amount error messages
Set purchase rules specific per the single product
Exclude one or more products from applying purchase rules
See How To Download